Exhibition introduction
With the upgrading of people's consumer experience, people's requirements for cars continue to increase, which has prompted car companies to continuously upgrade existing car technologies or develop new models. The market demand for automotive die & mould continues to grow, and in the future the automotive die & mould market value will exceed 100 billion RMB.
With the further acceleration of the automotive die & mould upgrading, the automotive die & mould industry will have more development opportunities in the future. More than 95% of auto parts need to be mass produced, processed and manufactured with auto die & mould.
In the world's largest automotive market, how can companies have a global perspective and participate in international division of labor and competition?
If you have higher requirements for the quality of automotive products, or want to understand the automotive die & mould industry technology innovation and industrial applications, we recommend to you "the 10th China Shanghai International Automotive Mould and Technical Equipment Exhibition", and hope you will find the answer through the platform.
Exhibition Scale
Why Exhibit?

Buyers' demand for automotive moulds and technical equipment comes from these industries:
OEMs
Tier1
Tier2
New Energy Vehicles
Commercial Vehicles
Special Purpose Vehicles and Automotive Sheet Metal Parts
Die-casting Parts
Stamping Parts
Interior and Exterior Trim Parts
Plastic Parts
Electronic Gas Parts
Die Manufacturing
Customized Car Remodeling
Exterior Parts
Aftermarket Industry
Etc.
Since 2011, our exhibition has held nine consecutive sessions in Shanghai. Our exhibition has a large number of domestic and foreign enterprises involved, in 2019 there are 56492 buyers to visit our exhibition, there are 12% buyers from overseas.
CIAIE is the only exhibition that has received support from overseas automotive associations and national pavilions. They are buyers from more than 20 countries (regions) including the United States, Germany, Japan, South Korea, Russia, Vietnam, India, Australia, Thailand, Italy, France, Taiwan, and the United Kingdom.
EXHIBITS Profile
Automotive moulds and mould products:
Automotive plastic moulds, automotive stamping moulds, tire moulds, forging moulds, die-casting moulds, progressive moulds, mould standard parts, mould parts, hardware parts, etc .; automotive interior and exterior trim parts moulds and material processing equipment.
Tool steel materials, metallurgical products:
Plastic mould steel, cold work mould steel, hot work mould steel, die-cast mould steel, stamping mould steel, powder metallurgy mould steel, cast iron materials.
Automotive mould manufacturing equipments:
CNC milling, boring, turning, drilling and other automotive mould processing cutting machine tools, dual-table CNC machine tools, automatic processing photoelectric control system, cutting tools and other products, automotive mould electrical processing machine tools, engraving machines; coordinate measuring machines, workpiece online Measuring systems and other measuring equipment; die-casting machines, automotive mould presses and test equipment.
Hot runner and other processing systems:
Injection moulding machine, nozzle, temperature control box.
Digital mould technologies:
3D technology, rapid prototyping technology; manufacturable design (DFM) technology, mold profile design assistance technology, intelligent profile design technology, stamping simulation technology (CAE), simulation stamping technology, CAPP, CAM and CAT technology Automated manufacturing technology.
Auxiliary materials and auxiliary equipments for automobile mould production:
Polishing, grinding, stamping, assembly fixtures, etc .; accessories, auxiliary materials, lubricating supplies and other related products for various machine tool equipment; roll overlay welding repair, tube mold integral overlay welding repair, forging die overlay welding repair, various Automotive mold repair technology and equipment. .
Advanced information management tools:
Enterprise Resource Management System (ERP), Customer Relationship Management (CRM), Supply Chain Management (SCM).
How To Reach
Shanghai New International Expo Centre (SNIEC)
ADD:No.2345 Longyang Road, Pudong New District, Shanghai, China
Shanghai New International Expo Centre (SNIEC) is located in Pudong New Area of Shanghai and easily ccessible.
Ways: Bus, metro and maglev
Public Traffic Station: Longyang Road
Walk: Around 600 meters from station to the SNIEC and it takes about 10 minutes to walk from the Longyang Road Station to the SNIEC.
Metro Line 7 is direct to SNIEC at Hua Mu Road Station whose exit 2 is close to Hall W5 of SNIEC.
.SNIEC Location Map    
.Shanghai Metro Network Map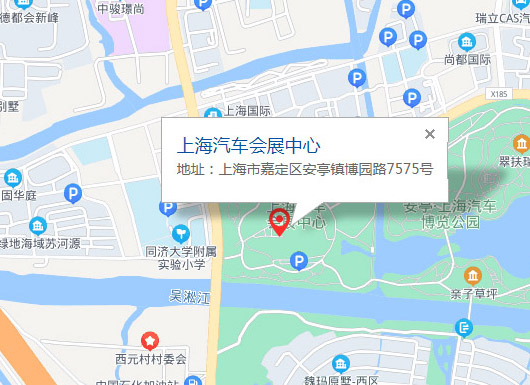 HIGHLIGHT